Ballina's latest Osteopath Clinic, Ballina Lifestyle Osteopathy, was formed by Dr Kirk Rides (Osteopath) in 2018. Located in a central Ballina location, Dr Kirk Rides provides Osteopathic services to clients across the Ballina region.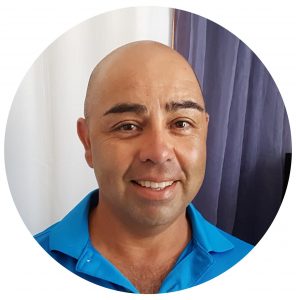 Dr Kirk Rides (Osteopath)
Kirk has a lengthy education in healthcare with two bachelor's degrees. Starting off with a Bachelor of Naturopathy completed in 2005 before moving onto Osteopathy and completing a Bachelor of Clinical Science majoring in human structure and function and osteopathic studies and a Masters of osteopathy.
Kirk first witnessed the benefits that osteopathy offered when he was employed as a carpenter and experienced persistent lower back and joint pain. It was osteopathy that brought about a complete recovery of symptoms and a return to pain free movement.
This transformation ignited Kirks interest in working with the body and utilising osteopathy to bring about a meaningful transformation in quality of life through improved movement and decreased pain.
He treats patients with a variety of conditions including back and neck pain, sciatica, arthritic pain, headaches and migraines. You can learn more about ostepathy and our services by reading our frequently asked questions page.
Kirk uses an integrated treatment approach in osteopathy, utilising manual therapy, patient education, and a progressive exercise/stretching program to achieve the best results for patients recovery goals.
Book your Consult Now
Whether you are a returning client or looking to book your first Osteopath consultation, Kirk and the team at Ballina Lifestyle Osteopathy are ready to help.